Type: Condo
Style: Contemporary
Lot size: NA
Age: Built 1978
Construction: reinforced concrete
Sq ft insulated/air conditioned: 1290
Sq ft deck/porches,
+ garage: 250+
Sq ft Storage: 16
Sewer: City
Water: City
Taxes: $7042 (2004)
Association fee: $3048
HVAC: central
Fireplace: no
Bedrooms: 2
Baths: 2
Laundry hookups: yes
Full kitchen: yes
Dishwasher: yes
Microwave: yes
Toaster: yes
Coffeemaker: yes
Washer: yes
Dryer: yes
Separate laundry room: yes
Furnished: yes
Parking: yes
Appliances included: yes
Electronic Equip: See below right

Balcony: yes
Patio: NA
Lanai: yes

Complex & outdoor
Heated Private pool: yes
Outside Shower: yes
Dock: No
Tennis court: No
Exercise room: No
Hot tub: No
Shuffleboard: Yes

This unit includes a beautiful dining room, crafted cabinets, built-in computer/desk wall unit, and new furniture. Bathrooms are also completely new. Kitchen accessories are first class (all new cabinets & appliances in 2000). You will be close to an overwhelming number of golf courses. Great shopping in Naples and Fort Myers and an abundance of restaurants are also available.
Bonita Beach is 25 miles from Southwest Florida International Airport. We are five minutes from Lover's Key which has been designated as one of the top ten beaches in the country. Please feel free to call us for more information about our Florida retreat.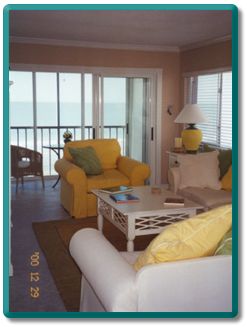 Type: Gulf Front Condo

2 Bedrooms...1 king, 2 twins
sleeps 4...two baths
Full kitchen...dishes/utensils/cookware
dishwasher, microwave, toaster, coffeemaker
air conditioning
washer/dryer, linens/towels/beach towels
cable TV (2), VCR, phone
lanai, outside shower
heated pool, shuffleboard